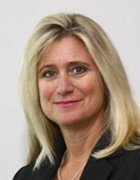 Cindy Provin
Chief Strategy and Marketing Officer -
Thales eSecurity -
Cindy Provin is chief strategy and marketing officer at Thales eSecurity where she is responsible for providing the vision and leadership for all marketing-led initiatives. She drives the vision for key functional areas including marketing, communications, product marketing, sales enablement, lead generation, business development and brand and marketing operations to achieve the company's business and financial growth objectives.
Cindy has a proven track record of leading and directing a high-growth, profitable data security organization having served as president, Thales eSecurity and vice president of global strategy and marketing for Thales eSecurity for the past 15 years. She established Thales eSecurity as a world leader in data security and market leader in hardware security modules.
Prior to Thales, Cindy served as vice president of the product division for Racal Data Group, managing the product operations in the Americas. She holds a bachelor's degree in business from University of Miami and an MBA from Lewis University in Chicago.
Cindy Provin's Most Recent Content