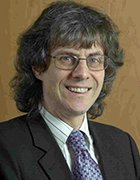 Dai Davis
Solicitor, Percy Crow Davis & Co
Dai Davis advises clients on intellectual property, computer and technology law subjects including such topical matters as e-commerce, IT security and cloud computing issues.
He is primarily a non-contentious lawyer, specialising in advising on commercial agreements relating to software and technology products, including outsourcing and cloud computing agreements and web-related contracts. He advises on intellectual property licences for clients producing a wide range of goods and services including franchise, distribution and agency agreements. Davis also gives advice on the litigious aspects of patents, trademarks and copyrights, acting for both claimants and defendants.
A further "super specialism" that Davis has practised for over two decades is high-tech product safety and product recall, including the law relating to CE marking.
Davis is a regular contributor to legal and technology journals. He is a fellow of the Royal Society for the encouragement of Arts, Manufactures and Commerce. He is the convenor of the International Electro-technical Committee TC56 – Legal Advisory Working Group (IEC TC56 being the organisation which is responsible for drafting international maintainability and dependability standards).
Dai Davis's Most Recent Content