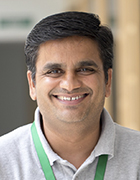 Dattatreya Kulkarni
Vice President of Product Engineering Services, Happiest Minds Technologies
Dattatreya, known as Datta, is the Microsoft and DevOps practice head of product engineering services at Happiest Minds. In this role, he is responsible for defining the technology strategy for product and platform engineering using Microsoft and DevOps. Datta also provides architecture consultation on various complex product and platform initiatives for IoT.
Datta has 20 years of experience in web, cloud, IoT and ERP software product development, working across the globe and distributed teams. Before joining Happiest Minds, he held multiple roles in services organizations in India and UK.
Datta has a bachelor's of engineering degree in electronics and communication from Karnataka University in India.
Dattatreya Kulkarni's Most Recent Content