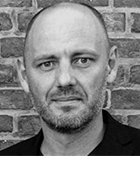 Dimitri Maex
President, Sentiance
Before he joined Sentiance, Dimitri was president of OgilvyOne NY, the flagship office of Ogilvy & Mather's digital arm. He was also a member of the OgilvyOne worldwide board. Dimitri was with OgilvyOne for 17 years and worked at the company's Brussels, London, San Francisco and New York offices. He spent the first half of his career in data analytics, running the Ogilvy Group's global data analytics practice. He then ran OgilvyOne's strategy offering before running the NY office. He has worked with many of the world's biggest brands such as IBM, American Express, Starbucks, Southwest Airlines, Unilever, Nestle, Cisco, UPS and many more.
In 2012, Dimitri published his book Sexy Little Numbers: How to grow your business using the data you already have. The book was published by Crown Business and has since been translated into six languages.
Dimitri began his career as a financial controller at Kraft Foods, after which he joined the Amsterdam Group (European Alcoholic Beverages Industry Group) as a market analyst for the EU. Born and raised in Antwerp, Belgium, Dimitri studied econometrics at the University of Antwerp. He got his MBA at the Xavier Institute of Management in Bhubaneswar, India.
Dimitri Maex's Most Recent Content