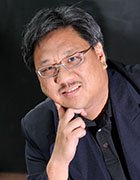 An engineer by training, Edwin Yapp first worked in one of Malaysia's largest telcos in the mid-1990s.
He gave up that job in 2001 and ended up working at an IT pullout for one of Malaysia's leading English dailies as a tech journalist, where he won several awards for Best Online Technology reporting.
He has since left to start his own editorial consultancy and advises clients on a range of editorial and communications issues.
He has worked as a freelance freelance journalist for several publications, and is now contributing to Computer Weekly and Digital News Asia.
Edwin is also an executive consultant at Tech Research Asia, an advisory firm that translates technology into business outcomes for executives in Asia-Pacific.
Edwin Yapp's Most Recent Content