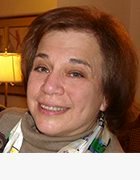 Ellen Muraskin
Ellen Muraskin has been writing about telecom and IT since 1993, when she joined the marketing department of Dialogic, a leading company in the field of what was then called computer-telephony integration. In 1996 she joined the editorial staff of CMP's Computer Telephony Magazine, rising to Executive Editor before joining Ziff Davis Media to launch the VoIP topic center of its eweek.com site.
Ellen also served as senior copywriter for IT infrastructure company Raritan, and has written and edited for Personal Computing, ChannelPro SMB, Channel Partners Online, VAR Business, TechTarget, Forbes' Custom division and Popular Science Magazines, among many others. She has also covered tech in the context of retail and hospitality, launching a quarterly tech supplement for Nation's Restaurant News.
A Rutgers graduate, Ellen also worked as a programmer (back in the Jurassic mainframe era) for five years before writing for people.
Ellen Muraskin's Most Recent Content