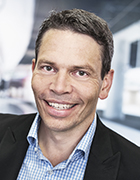 Fredrik Nilsson is vice president of the Americas at Axis Communications, overseeing the company's operations in North and South America and serving on the global management team. In his 20-year career at Axis, he has undertaken various roles in both Sweden and the United States. Since assuming responsibility for the Americas in 2003, revenues have increased more than twentyfold. Nilsson has also been instrumental in leading the surveillance industry shift from analog closed-circuit television to network video.
Nilsson has been an active participant in SIA (Security Industry Association) and was on the board of directors and executive committee for many years. A trusted industry speaker, he has delivered lectures and keynotes at many conferences, including influential shows such as Securing New Ground, ASIS, ISC West, Expo Seguridad and Interop. In 2016, Nilsson received the prestigious George R. Lippert Memorial Award presented to individuals for their long-term service to SIA and the security industry, the impact of their efforts on behalf of SIA and the industry, as well as their integrity, leadership and diplomacy in industry dealings.
An oft-quoted source for top business newspapers such as The New York Times, USA Today, The Washington Post and Svenska Dagbladet, he has also contributed articles and quotes to numerous professional security and IT publications both in the United States and abroad. Nilsson has made guest appearances on CNN, CNBC, Fox News and NECN. He is the author of the book Intelligent Network Video, published by CRC Press, now available in its second edition.
Prior to Axis, Nilsson served as a product manager for ABB, a global leader in power and automation technologies. A graduate of the Lund Institute of Technology, he holds a master's degree in electrical engineering and postgraduate studies in economics.
Fredrik Nilsson's Most Recent Content