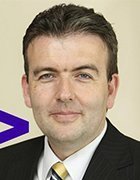 Ger Daly is senior managing director for Accenture Defense and Public Safety with global responsibility for defense, policing, and border and identity business services.
He leads a team of dedicated professionals who assist government and public service organizations that manage the cross-border movement of people, provide national and international security, and manage criminal justice systems.
Accenture Enterprise Services for Defense focuses on enterprise transformation, combining ERP acceleration, defense analytics and strategic change management to help defense agencies reduce costs while ensuring operational readiness and mission success. Clients include defense agencies in the United States, United Kingdom, France, Germany, Netherlands, Norway, Finland, Australia, Singapore, Canada and Japan.
Accenture Police Services helps police forces improve performance and achieve greater efficiency through operational transformation and investigations and justice integration. Clients include leading policing organizations such as the Federal Bureau of Investigation, and the Departments of Homeland Security, Justice and State in the United States -- and national police forces in Spain, Portugal, Ireland, India, UAE, Finland, Norway and Sweden.
Accenture Border and Identity Services specializes in border management and national identity management. Clients include the U.S.-VISIT visa program, the European Union (EU-VIS visa program), the national citizen identity program of India (UID), Saudi Arabia eVisa, Automated Border Clearance in the Netherlands and UK, and immigration case management in Ireland, Netherlands and Finland.
Daly's defense industry experience spans large-scale enterprise resource planning programs, supply chain logistics and a range of technology programs that include cloud, data analytics, predictive analytics and mobility services.
His extensive experience in delivering large-scale identity management projects for public safety and government agencies includes the European Union (EU-VIS visa program) and the national citizen identity program of India (UID). For policing organizations, he has overseen performance and efficiency programs in cost reduction, supply chain and information management. Daly also has led the delivery of innovative operating and investigation systems for police clients around the world.
Prior to his current position, Daly managed Accenture's Health & Public Service business in Ireland and led Accenture's Border Management & Public Safety industry group in Europe, Africa and Latin America. In addition to his work for government and public service clients, Daly has worked with a number of Accenture clients across the banking and retail sectors. He joined Accenture in 1988 and holds a Bachelor of Electrical and Electronic Engineering from University College Cork in Ireland. He lives in Dublin.