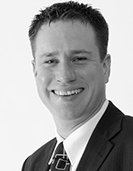 Graham McGlashan is a chartered (UK) and European patent attorney at Marks & Clerk.
Graham advises clients in a variety of IP-related issues, specialising in patent and design matters, over a wide range of fields including electronics, telecoms, electrical, energy, cleantech, automotive, defence and software related inventions. His clients range from major multinational corporations and leading universities to SMEs and spin-outs.

Graham has extensive experience of matters at the UK Intellectual Property Office, the European Patent Office and the European Union EU Intellectual Property Office, including written and oral proceedings.
Graham was born and educated in Scotland and obtained an honours degree in chemical physics from the University of Glasgow, followed by a doctorate from the University of St Andrews. Before entering the patent attorney profession, Graham worked for several years in industry on the development of new technologies in the semiconductor and energy technology fields, and is a named inventor on a number of patents. He became a partner of the firm in 2016.
Graham McGlashan's Most Recent Content