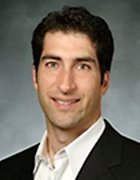 Greg Najjar is the director of business development at ADRF, responsible for establishing new strategic relationships and providing enhanced coverage solutions for partners and customers. He has 20 years of experience developing and leading technology-driven teams, focused on business operations, project management and engineering.
Prior to joining ADRF, Greg worked at Sprint for 19 years as the director of custom network engineering, where he managed a team of engineers and project managers that focused on deploying 3G and 4G solutions. While at Sprint, his teams were responsible for the company's top enterprise and government customers, as well as large venues, airports, stadiums and special events such as the NBA All Star Game, Super Bowl and Presidential Inauguration. He also maintained national responsibility for Sprint's strategy and budget, RF design and deployment of technology solutions (DAS, Wi-Fi, and small cell) for all public venue, enterprise in-building customers, Sprint retail stores, special events and NASCAR races.
Greg holds a bachelor of science degree in electrical engineering from Northeastern University in Boston.
Greg Najjar's Most Recent Content