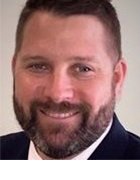 Greg Temm is chief information risk officer for the Financial Services – Information Sharing and Analysis Center (FS-ISAC). Temm is responsible for the overall global intelligence and risk management program of FS-ISAC and serves as a trusted security advisor in sales, marketing and member engagement for the company around the globe.

Prior to FS-ISAC, Temm spent nearly two decades at Mastercard as vice-president of intelligence and public-private partnership. In this role, he was accountable for the development of Mastercard's global cyber and physical intelligence programme, while also serving as emissary to the intelligence and information-sharing communities.
While at Mastercard, Temm became a strong advocate for information-sharing initiatives, expanding Mastercard's participation with information-sharing entities, including FS-ISAC, and leading two threat intelligence committees. Eventually, he served on the board of directors for FS-ISAC and contributed to numerous industry boards.
He is a Certified Information Systems Security Professional (CISSP), a member of the High Technology Crimes Investigation Association (HTCIA) and the Intelligence and National Security Alliance (INSA).
Greg Temm's Most Recent Content