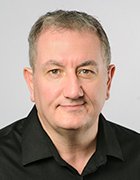 Greg Young is vice president of cybersecurity at Trend Micro. His research focuses on enterprise security, especially for networks, clouds, virtualization, IoT/operational technology and microsegmentation.
Greg has 30 years of experience in IT and cybersecurity for product companies as well as the private and public sectors. He spent his military career in technology security and was head of IT security for the Federal Department of Communications. Most recently, he was a research vice president at Gartner, where he spent 13 years covering security for network and cloud, and authored more than 20 Gartner Magic Quadrants.
Additionally, he previously headed large security consulting practices, was chief security architect for a security product company, served as an officer in the Armed Forces and graduated from the Canadian Forces School of Intelligence and Security.
He received the Confederation Medal from the Governor General of Canada for his work with smart card security, and his recognition includes mention in Network World's "12 Most Powerful Security Companies" and Sys-Con's "100 Most Powerful Voices In Security."
Greg Young's Most Recent Content