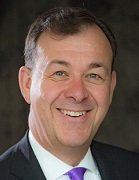 Gregory Touhill is a director of ISACA, an international professional association focused on IT governance, and a member of the organisation's audit and risk committee.
He is also president of the Cyxtera Federal Group and was selected by US president Barack Obama as the US government's first chief information security officer (CISO).
He previously served as deputy assistant secretary at the US Department of Homeland Security and director of the National Cybersecurity and Communications Integration Center.
Touhill is a retired US Air Force general officer, a highly-decorated combat leader, an adjunct professor at Carnegie-Mellon University, an author and public speaker, a former US diplomat, and a senior executive.
Gregory Touhill's Most Recent Content