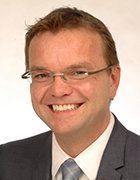 Hans Thalbauer
SVP, Digital Supply Chain and IoT -
SAP -
Hans Thalbauer is globally responsible for solution management and the go-to-market functions for SAP's Digital Supply Chain solutions and the SAP Leonardo internet of things portfolio.
In this role, he is engaged in creative dialogues with businesses and operations worldwide, addressing customer needs and introducing innovative business processes, including the vision of creating a live business environment for everyone working in operations.
Hans has more than 17 years with SAP and is based out of San Francisco, Calif. He has held positions in development, product and solution management, and the go-to-market organization. Hans holds a degree in business information systems from the University Vienna, Austria.
Hans Thalbauer's Most Recent Content