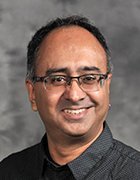 Harjit Dhaliwal
Senior Systems Administrator -
Harjit Dhaliwal is a Microsoft MVP and a senior systems administrator in the higher education sector. Harjit specializes in patch management and the use of Microsoft and VMware technologies, including Windows Server and VMware View VDI.
Harjit has been a member of the roundtable teams at the Microsoft TechEd and Microsoft Ignite conferences. He presented at Microsoft Ignite 2017 and also participated as an MVP Community Reporter at the conference.
Harjit founded Tech Konnect, a group for technology enthusiasts. He helps manage social media platforms for several technology groups, nonprofit organizations and local communities in Vermont.