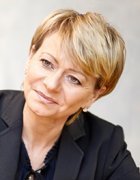 Harriet Green
General Manager, IBM Watson IoT -
IBM -
Harriet Green OBE, is a global executive who has led business transformations on four continents, with a proven track record for developing and implementing strategies for profitable growth and increasing shareholder value in global technology, logistics, travel and consumer sectors.
Harriet is currently serving as IBM's General Manager for Watson Internet of Things, Commerce and Education. In this role, she is responsible for driving growth in some of IBM's highest priority and most strategic business initiatives, which are using cognitive computing to help clients unlock value from the massive amount of data within their organizations.
Previously, as CEO of the Thomas Cook Group, Harriet led the successful global transformation and rebranding of the oldest name in leisure travel.
Harriet is a non-executive director of FTSE 100 BAE Systems plc, a developer of defense and aerospace systems, with sales of 18.2 billion in 2013. She is also a founder and board member of the Peaceworks Foundation -- a business that pursues profit though the sale of health foods in conflict zones. Harriet is also on the Board of Advisers for Catalyst -- a leading non-profit organization with a mission to accelerate progress for women through workplace inclusion, as well as a founder of the One-Voice Organisation.
Recognized recently as the UK Business leader of the Year and Veuve Clicquot Business Woman of the Year for 2014, Harriet is also ranked 23rd in the Fortune Top Global Businesspeople list. She has also served two parliamentary terms as a member of the U.K. Prime Minister's Business Advisory Group. Harriet received her OBE for services to electronics in 2010.
Harriet Green's Most Recent Content