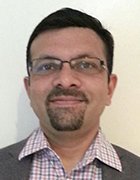 Harsha Bagur
Solutions & Product Expert - Connected Devices -
NEXO, BLR Labs -
Harsha Bagur is a solutions and product expert, connected devices, at NEXO and BLR Labs. He is a seasoned technologist with rich experience in product strategy, roadmap and management; software and systems architecture; solutions architecture, management and pre-sales; leading multisite development and matrix models; and agile, SCRUM, Kanban, TDD and DevOps.
His current focus is on IoT and M2M, deriving machine learning models using predictive analytics for customer engagement in retail and predictive machine health sensing for preventive maintenance. Harsha is also interested in devising data architectures for ingesting humongous amounts of data emanating from the IoT/M2M devices.
Harsha previously worked on automotive systems, with his main focus being on infotainment and telematics.