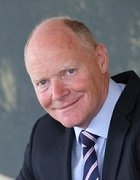 Ian Glover is president of CREST, the not-for-profit body that represents the technical information security industry and provides internationally recognised accreditation for organisations and professional level certifications for individuals providing penetration testing, cyber incident response, threat intelligence and Security Operations Centre (SOC) services.
CREST was set up in 2006 to deliver more regulated professional services in the UK and is now recognised globally with chapters in Australia, Hong Kong, Malaysia, Singapore and USA.
Glover has been involved in the development of the UK Government's Cyber Essentials scheme and the CREST, Bank of England and Government project to develop the STAR and CBEST schemes to provide higher levels of assurance for critical parts of the UK financial services infrastructure. He also helped to develop and implement the UK Government CIR (Cyber Incident Response) and CREST Cyber Security Incident Response (CSIR) schemes.
Glover has worked in information security for the last 36 years. He has been instrumental in many major industry initiatives, supported collaborative research and driven programmes to encourage more people into the cyber security industry.
Ian Glover's Most Recent Content