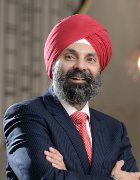 Jagvinder Singh Kang
International & UK Head of IT Law -
Mills & Reeve -
Jagvinder Singh Kang is a market leading technology lawyer, as well as the International & UK Head of IT Law at leading law firm, Mills & Reeve. Jagvinder has been independently recognised by the legal industry as the top UK technology lawyer for nine years running.
He has also been inducted into the Legal 500's official 'Hall of Fame', which the legal industry's leading publication confirms as recognising: "the law firm partners who are at the pinnacle of the profession."
He is a specialist technology and GDPR/data protection lawyer (CIPP/E, CIPM), with over 20 years of technology law expertise from having advised on billions of pounds worth of UK and international technology transactions, including those involving some of the world's largest corporations. He has also undertaken global, European and UK GDPR compliance projects.
Furthermore, he is perhaps one of the only UK Partners within a top 40 law firm, who is triple qualified as a technology lawyer (holding a Distinction in Law), specialist data protection lawyer (his specialist CIPP/E data protection qualification certification scores are amongst the highest in the world, with him achieving an average topic level score of 99%) and software engineer (holding a First Class BSc (Hons) degree in Computer Science and Software Engineering, and he has completed the academic requirements for Chartered Engineer status).
Consequently, he draws on his unique expert background to bring truly insightful views on the combination of technology and law.
Jagvinder Singh Kang's Most Recent Content