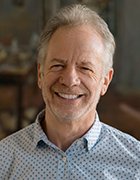 James Caplin has been an executive coach and trainer for more than two decades. During that time, he's developed and honed a range of coaching and training techniques. Major institutional clients include Mars, Barclays and DPD.
He delights in supporting clients to upgrade and master how they engage in work life. One transitioned from engineering lead in a British corporate, to global lead in AWS. Another from operations in a UK financial institution, to country lead in Amazon.
He coaches a limited number of people 1-2-1, plus pairs (co-founders, chair and CEO, for example).
His new BOSS programme distils his insights into a set of intense, interactive, shared workshop experiences. The learning transfers directly into the workplace, resulting in immediate benefit. Cumulatively, the changes enable participants to become more strategic, inclusive and productive.
Caplin's work delivers clear business benefits, improves morale, enhances resilience and creativity, both individually and collectively.
James Caplin's Most Recent Content