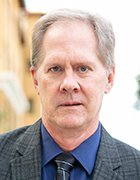 As a recognized industry leader in the wireless IoT and machine-to-machine (M2M) market, Jeff Newman has over two decades of experience as an early pioneer within the M2M wireless industry. Newman is currently the vice president of business development for CalAmp. In his current position, he works with key partners and enterprise executives in the areas of connected car telematics solutions, industrial IoT applications and insurance telematics, helping companies derive new sources of revenue and improve operational efficiencies on a global basis.
Newman previous worked for BEC Technologies and held numerous positions within the M2M and IoT value chain including senior vice president of business development for Numerex, chief strategy officer and senior vice president of business development for Enfora where he was responsible for driving global business opportunities in a wide variety of IoT vertical market segments, including security, telematics, home automation, asset management and remote monitoring.
Newman has also previously held senior management positions within Intel, Texas Instruments and T-Mobile. Newman holds a Bachelor of Science in electrical engineering from the University of Arizona, an MBA in technology management from the University of Phoenix and has been successfully involved in a number of start-up companies throughout his career.
Jeff Newman's Most Recent Content