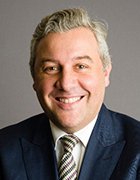 Epsilon Co-Founder and CEO Jerzy Szlosarek is a seasoned industry executive with a strong sales and engineering background, particularly in the global telecom markets. Leading Epsilon's worldwide partner development and innovation initiatives, Jerzy has been central to the company's success positioning Epsilon into service provider networks worldwide.
Jerzy's track record of success spans almost 20 years, having progressed in Epsilon from the founding days as CTO, during which Jerzy laid out the technical vision, to running the global sales and operations teams as COO before assuming the CEO position.
Starting off his career at Ciena, EMEA and later in Dynegy Europe holding senior system and network engineering positions, Jerzy built, developed and nurtured successful technology, support and sales teams for almost 20 years.
Jerzy Szlosarek's Most Recent Content