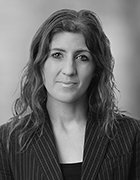 Joanna Dimmock
Partner -
White & Case -
Joanna Dimmock is a partner in the white collar team in London. Joanna joined White & Case in October 2015 from a leading law firm.
Joanna has broad experience across a wide range of white collar related areas. Many of her cases have an international dimension and she has particular experience of multi-jurisdictional investigations, including bribery and corruption and cartel investigations undertaken by authorities in both the UK and abroad (SFO, SOCA, Arab Republic of Egypt, DOJ, Canadian Competition Bureau), as well as complex extradition, Interpol red notices and mutual legal assistance matters.
Joanna also has considerable experience in the field of international sanctions, having represented individuals facing restrictive measures, as well as corporations requiring compliance and litigation advise arising from the enforcement of sanctions by the European Council, OFAC and the Swiss Federal Council.
Joanna Dimmock 's Most Recent Content