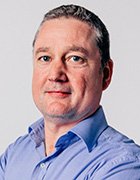 Vice-president of sales at iland, Johnny Carpenter truly understands the trends and nuances of the ever-changing cloud industry.
With more than 20 years IT industry experience, Johnny has led the iland team in Europe, the Middle East and Africa (EMEA) for the past 8 years through sustained growth and innovation to become a leader in the infrastructure-as-a-service (IaaS) and disaster recovery-as-a-service (DRaaS) market.
With a history of consistently delivering sound commercial judgement, Johnny has a reputation for acute market insight bringing improved business outcomes to the iland customer base. Johnny has a passion for working with next-generation technologies that will revolutionise how iland's customers and partners do business.
Johnny Carpenter's Most Recent Content