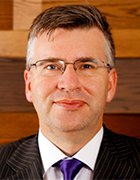 Jonathan Armstrong
Compliance lawyer -
Cordery -
Jonathan is an experienced lawyer with Cordery in the UK with a concentration on compliance and technology. His practice includes advising multinational companies on matters involving risk, compliance and technology across Europe. He has handled legal matters in more than 60 countries involving data breach, bribery and corruption, corporate governance, ethics code implementation, reputation, internal investigations, marketing, branding and global privacy policies. The Cordery team frequently work as specialist compliance co-counsel with firms in the US and Europe.
Jonathan is one of three co-authors of the LexisNexis definitive work on technology risk, "Managing Risk: Technology & Communications". He is a frequent broadcaster for the BBC and other channels and appeared on BBC News 24 as the studio guest on the Walport Review.
Jonathan was recently ranked as the 14th most influential figure in global data security by Onalytica in their 2016 Data Security Top 100 Influencers and Brands Survey.
In addition to being a lawyer, Jonathan is a Fellow of The Chartered Institute of Marketing. He has spoken at conferences in the U.S., Canada, China, Brazil, Singapore, Vietnam, Dubai and across Europe. Jonathan qualified as a lawyer in the UK in 1991 and has focused on compliance and technology matters for more than 20 years.
Jonathan Armstrong's Most Recent Content