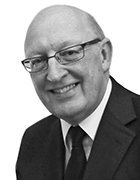 Jonathan Mitchell
Non-executive chairman -
Global Harvey Nash CIO Practice -
Jonathan Mitchell is the non-executive chairman of the Global Harvey Nash CIO Practice. He is also a director of CIO Strategic Advisors, a specialist consultancy supporting boards and CIOs undertaking major strategic change.
During his 35 years in the industry, he spent a decade at Rolls-Royce plc as the CIO, business process improvement director and corporate development director. Prior to that, he was a vice-president at GlaxoSmithKline, and before that a project director at BP.
His doctoral thesis involved computer modelling and experimental analysis of super-volcanoes. His recent book, Staying the course as a CIO, has become an industry bestseller. He is the only British IT leader to be invited to contribute to the John Wiley International CIO series.
Jonathan is a proud Fellow of the BCS and a chartered IT professional.