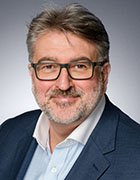 Karl Roe is vice-president of services and cloud solutions at pan-EMEA, high-value distributor Nuvias Group.
Roe has over 20 years' experience in qualifying, creating, selling and delivering profitable datacentre, ASP, SaaS, IaaS, cloud and outsourced ICT business solutions into SME and enterprise markets.
He has held global service transformation and cloud-enablement leadership positions, working on both vendor and reseller transformation, as well as working at major software companies such as Odin, Microsoft and Oracle.
Karl Roe's Most Recent Content