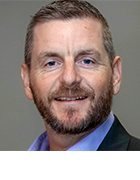 Kelly Frey
VP Strategic Solutions -
Telogis, a Verizon Company -
Kelly Frey is vice president of strategic solutions at Telogis, a Verizon Company. He brings more than 20 years of experience as an entrepreneur, product innovator and industry thought leader in the commercial fleet compliance and telematics industries.
Prior to Telogis, Kelly was CEO and co-founder of BigRoad, and was previously responsible for directing the sales and business development for Turnpike Global Technologies as executive vice president of sales before being acquired by XATA in 2009. He also served as vice president of strategic marketing and vice president of sales for Descartes Systems Group, and intermodal marketing manager for CN Rail.
Kelly is passionate about mobile worker/driver empowerment and helping fleets and service providers change the game with innovative cloud-based technology solutions. He earned an MBA from the University of Manitoba and his undergraduate degree from Wilfrid Laurier University. Kelly lives in Southern California with his wife Erin, six boys and four dogs.
Kelly Frey's Most Recent Content