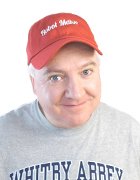 Kevin McAleer obtained a degree in computer science in 1998 and has worked in the field of IT ever since. Initially he provided IT support in the education sector, and later he worked as a freelance project manager for companies including HP, BT, Kellogg, RBS and TransUnion.
Kevin has a keen interest in programming with Python and enjoys teaching others how to use it to construct robots.
Kevin resides in the U.K. with his wife, four cats, two Chihuahuas and an array of robots.
Kevin McAleer's Most Recent Content