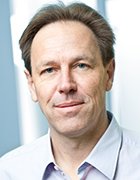 Klaus Gheri is vice-president, network security and general manager for Barracuda's network security business.
Prior to the acquisition of Austria-based firewall company Phion AG by Barracuda Networks in late 2009, Gheri served as Phion's CTO and co-founder, responsible for product and technology strategy and strategic business relationships.

Gheri started his career at Innsbruck University, where he was an associate professor of Theoretical Physics specialising in research on quantum communication schemes. One of his main achievements was his input into the design and development of Phion Netfence, which has meanwhile become the Barracuda NG Firewall and its mid-market spin-off Barracuda Firewall.
Gheri has more than 14 years of experience working in security, and has spoken at many of the leading national and international security events. He works out of Barracuda's European R&D headquarters in Innsbruck, Austria.
Klaus Gheri's Most Recent Content