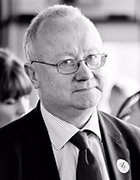 Leighton Andrews
Professor of practice in public service leadership and innovation , Cardiff Business School
Leighton Andrews is professor of practice in public service leadership and innovation at Cardiff Business School. He teaches, researches and writes in the fields of government, public leadership and innovation, education policy, regulation and governance of media, social media and digital.
He was formerly minister for education and skills and minister for public services in Carwyn Jones's Welsh Labour government from 2009-2016, a deputy minister in Rhodri Morgan's One Wales government from 2007-2009, and assembly member for the Rhondda from 2003-2016.
Prior to his election to the National Assembly in 2003, Leighton had a successful career in the private, public and voluntary sectors. He was the BBC's head of public affairs in London from 1993-1996 during its Charter Renewal campaign. He ran a number of businesses in the public relations field and set up his own business after leaving the BBC.
Leighton Andrews is the author of Facebook, the Media and Democracy, published by Routledge.
Leighton Andrews 's Most Recent Content