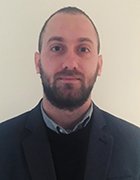 Leonidas Plagakis is a security engineer for leading cyber security, data analytics and cloud security consultancy, RiverSafe.
Plagakis began his career in Athens, Greece, working as a software engineer for mSensis SA, a software and systems provider for telecoms and the financial and public sectors.
Plagakis moved to the UK to secure a masters in computer science from Royal Holloway, University of London.
Now, Leonidas is a certified Splunk engineer, helping to keep enterprises secure from the many cyber terrors they will face.
Leonidas Plagakis's Most Recent Content