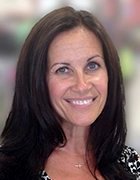 Lisa Brown
Senior National Director, Municipal Infrastructure & Smart Cities, North America, Johnson Controls
Lisa Brown joined Johnson Controls in 2003. As national director for municipal infrastructure and smart cities, Lisa is responsible for growth of the local government market in North America, including the development of strategies, offerings and innovations for local government service and systems markets. In 2015, Lisa created Johnson Controls' local government urban growth initiative, which combines smart city solutions with community outreach and workforce enhancement for midsize to large municipal customers. Lisa is consistently sought out to deliver keynote presentations and participate on smart city and IoT panels to discuss how data can assist cities to become "smarter" and its relation to climate resiliency, smart infrastructure and economic growth.
Lisa was recently nominated to join the Women of Municipal Government committee for the National League of Cities and the Smart Communities Advisory board for the International City Manager's Association. For the past three years, she has been the leader of the East Region Women's Resource Network of Johnson Controls and served as global ambassador for International Women's Day. Lisa served 15 years with the Junior League of Montclair-Newark, four of those years as director of community development and outreach in Newark, New Jersey. Lisa currently is a board member of the Rumson-Fair Haven Education Foundation. In 2016, she was honored as a NY Women of Valor and received the Humanitarian Award from St. Francis Food Pantries and Shelters, which support 1.5 million food-disadvantaged New Yorkers annually.
Lisa resides on the Jersey Shore with her family and two always-hungry dogs.
Lisa Brown's Most Recent Content