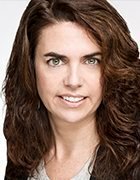 Lydia Jones
President -
InSage LLC -
Lydia Jones is the founding president of InSage, a strategic consulting firm that helps companies expand business opportunity through data monetization. Lydia has over 20 years of experience helping clients in the online commercial space navigate data collection and data sharing initiatives while complying with privacy rules and industry best practices.
Before starting InSage, Lydia was an equity partner at a major law firm where, predating the start of the dot-com era, she launched an Internet law and online privacy practice group to increase revenue and growth opportunities for Fortune 500 companies and high-profile individuals. She was selected for inclusion in Best Lawyers in America in the category of Information Technology for six consecutive years, and has received a number of other distinctions including "Best of the Bar," "40 under Forty" and "Up and Comers."
Her commentary on digital technologies has been tapped by numerous business, legal and scholarly forums. Her most recent writing, which discusses privacy rights in financial information, is scheduled to appear in Privacy Rights in the Digital Era in early 2016. In addition to leading InSage, Lydia is an adjunct professor of law at Vanderbilt Law School, where she teaches information privacy law.