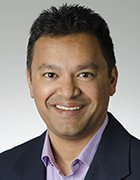 Mahbubul Alam
CTO & CMO -
Movimento Group -
Mahbubul Alam is an international entrepreneur, technology and business executive with broad management experience. He is a frequent author, speaker and multiple patent holder.
Alam has a history of fearless transformation informed by groundbreaking technologies to improve business outcomes by maintaining a startup culture with rapid organization growth and focus on the corporate goals and objectives.
He is currently driving the evolution of tomorrow's vehicles as the chief technology and marketing officer (CTO/CMO) of Movimento Group. Alam was brought to the company in early 2015 to reinvent technology and strategy, leading a transformative era in which Movimento will help shepherd the auto industry through the biggest changes since Henry Ford's days. In January 2017, Movimento got acquired by Delphi Automotive PLC and will continue to work as an independent entity.
Before joining Movimento, he was an insightful leader and internal startup creator at network leader Cisco. He is the recipient of the 2016 Bay Area CIO of the Year award finalist honored by Silicon Valley Business Journal and the San Francisco Business Times.
Mahbubul Alam's Most Recent Content