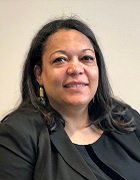 As director of cyber security advocacy for (ISC)2 in Emea, Mary-Jo de Leeuw works to encourage corporations, governments, academic institutions and others to collaborate on strong cyber security policies, legislation and education.
The aim of this is to drive recruitment and professional development for the next generation of cyber security leaders and help promote a safe and secure cyber world.
She holds a bachelor of IT degree from the University of Applied Science, Utrecht. She is a winner of the Cybersecurity Excellence Awards 2018 for Europe, was ranked #10 by IFSEC as a global cyber security influencer, and has won the global "Iconic Women 2017, Creating a Better World for All" award.
De Leeuw was the founder and president of the Platform Internet of Toys, an international community that consults on the security implications for connected toys to make them more secure.
She was also co-founder and vice-president of the Women in Cyber Security Foundation, a discipline-specific community for women in cyber security, and has served on the boards of the ALL Women Economic Forum, Women Leaders@Digital Europe, CyberTRUST and Coding Girls.
Mary-Jo de Leeuw's Most Recent Content