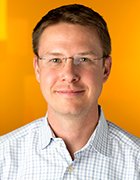 Mav Turner
Group vice-president of product management -
SolarWinds MSP -
Mav Turner is group vice-president of product management for SolarWinds MSP, overseeing all product management and product marketing activities and bringing two decades of technology experience to the role.
Before becoming a vice-president, Mav held senior director and director roles across network management, security, and web products for SolarWinds.
Prior to this, he served in product management roles across networking products and web properties. Before SolarWinds, Mav was a technical project manager for INX Inc., and spent six years in network administration for the City of Austin.
Mav holds a bachelor's degree in computer science from Texas State University.
Mav Turner's Most Recent Content