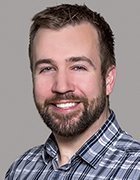 Mike Milner
Co-Founder and CTO -
IMMUNIO -
A critical thinker and technical strategist with a measured approach to effective execution, Mike is the Co-Founder and Chief Technology Officer at IMMUNIO. While he's witnessed the breadth of opportunities technology and data intelligence have created for business and government, Mike's focus has always been on the vulnerabilities.
Between fighting cybercrime for the Canadian government and working for security agencies overseas, Mike has developed a deep understanding of the global security landscape and how the underground economy dictates hacks and ultimately drives breaches. This unique experience paired with his robust technical prowess helped Mike uncover what the next generation of security software should look like in IMMUNIO.
Prior to founding IMMUNIO, Mike was a lead member of the technical staff at Salesforce.com where he gained insight into the business side of web applications. He also served as a software engineer at Canonical, working on the world's most popular free operating system, Ubuntu, following his time serving both the Canadian and UK Government.
Mike Milner's Most Recent Content