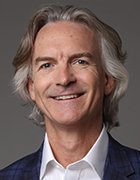 Minter Dial
Founder and president -
The Myndset Company -
Minter Dial is founder and president of The Myndset Company, a boutique agency that provides specialised services on branding and digital strategy.
A renowned international speaker and prior member of the Worldwide Executive Committee of L'Oreal Professional Products Division, where he worked for 16 years in four countries, Minter creates bespoke executive programmes designed to activate brand and digital strategy.
A storyteller who enjoys exploring the diversity of media formats, he is the author and producer of the award-winning WWII documentary film, The last ring home, which aired nationally in North America (PBS), Australia and New Zealand (History Channel). See the trailer here.
His latest book, Futureproof, how to get your business ready for the next disruption (Pearson Publishing) co-written with Caleb Storkey, CEO of Storkey Media, bowed September 2017. He is non-executive board director of ECV Paris, and previously of Lastminute.com Group. Minter is passionate about The Grateful Dead, padel tennis and languages.
Clients of the Myndset include Orange, Kering, Remy-Cointreau, LVMH, L'Oréal, LaRedoute, Samsung, Tencent, Google, Credit Mutuel, Total, GDF-Suez, and Publicis.
Minter Dial's Most Recent Content