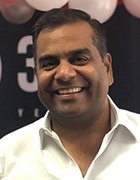 Mukesh Gupta co-founded e92plus in 1989, and continues to lead the organisation as chief executive.
e92plus is a cyber security specialist, and Mukesh has played a pivotal role in driving the launch of new products and technologies via e92plus to the UK channel over the past 30 years, most noticeably accelerating startup vendors and growing the partner community and revenues for established brands.
The company has established itself as one of the most respected and innovative value-added distributors in the channel, while remaining one of the last independent VADs, introducing new services and initiatives to help drive its customers' business and provide extensive sales, marketing and technical support.
e92plus has enjoyed significant growth of over 500% in the past nine years and record turnover figures, with the company winning multiple channel, vendor and partner awards.
Mukesh has a BSc Honours in mathematics, statistics and economics.
Mukesh Gupta's Most Recent Content