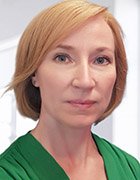 Natalie Whittlesey is the director of Harvey Nash's CIO Practice and specialises in executive recruitment of technology C-suite posts in the UK and overseas.
She hosts events and shares insights from Harvey Nash's thought leadership publications, such as The Harvey Nash/KPMG CIO survey, one of the largest IT leadership surveys in the world.
As well as staying ahead of tech trends, one of her passions is understanding and improving diversity and inclusion.
Natalie understands the nuances of technology leadership (no two technology leaders, or leadership posts, are the same) and has a deep knowledge of the hurdles and opportunities that companies face when tackling the technology trends that continuously emerge and affect or disrupt businesses.
She works with clients across all industry sectors and her assignments cover the recruitment of candidates for the technology C-Suite (CIO, CTO, CDO and their director-level equivalents), many with multi-territory remits.
Natalie joined Harvey Nash in 2006 and became director of the UK CIO Practice in 2014.
Natalie Whittlesey's Most Recent Content