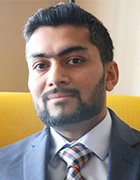 Neeraj Kumar, vice president (technology) and head of R&D, leads Zenith System Solutions' technology vision and roadmap. He is the founder of Zenith Innovation lab, an incubator focused on creating innovative products around evolving technologies. Neeraj also represents Zenith across industry groups like TM Forum and GSMA.
Neeraj is widely regarded as a thorough telecom expert with years of industry experience working with network equipment vendors, handset manufacturers and CSPs. He has been responsible for conceptualizing and designing many products and solutions which have been widely successful across the industry.
Neeraj is a keen nature lover and loves travelling, hiking, biking and long drives. He is also an avid photographer, and loves to spend his time shooting beautiful landscapes and architecture.
Neeraj Kumar's Most Recent Content