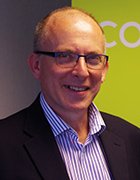 Nick Sacke is head of products and internet of things (IoT) at Comms365. He has over 30 years of telecommunications experience, ranging from sales to director roles.
Previously, he has worked as a senior product and commercial specialist for managed ICT and IoT propositions and services for SME, enterprise and local government customers.
He holds product and commercial development responsibilities for a set of innovative, market-leading mobile data, bonding, fixed line communications and IoT service solutions for the B2B market at Comms365.

As the commercial and technical lead for its IoT business, Nick's key responsibilities involve reviewing and enhancing Comms365's product roadmap, as well as planning and executing its IoT strategy.

There is a lot of noise around IoT at the moment, and it's quickly becoming one of the fastest growing areas of technology. However, Nick believes there is a real need for an end-to-end solution that really delivers value for the customer.
Nick Sacke's Most Recent Content