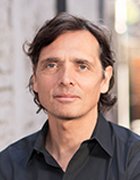 Nicola Morini Bianzino
Global chief client technology officer -
EY -
Nicola is EY's global chief client technology officer, focused on bringing technology products to EY clients and positioning technology at the heart of the organization. With a 20-year track record of driving technology strategy innovation, he advises global clients on technology investment and their innovation agendas, providing industrialized technology products to meet their most pressing business needs.
Prior to joining EY, Nicola led the global AI business for Accenture, developing the practice, market positioning, client offerings, thought leadership and ecosystem partnership. He also led growth and strategy for the technology business at Accenture, a $30 billion portfolio, including developing and executing the Accenture technology strategy across the dimensions of ventures and acquisitions, capability and offering development investment, investor and analyst interactions, and thought leadership.
A thought leader on AI, machine learning, innovation and big data, Nicola is passionate about extracting value from technology investment. He is an early AI pioneer, writing his thesis on the application of neural networks in business in 1997. Nicola holds a master's degree in artificial intelligence and economics from the University of Florence.
Nicola Bianzino's Most Recent Content