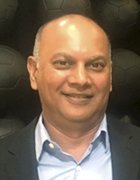 Nimish, Venuetize's CTO, has a passion for innovation. He has spent most of his years in the software industry, leading teams and companies that focus on cutting-edge technologies, and has been developing mobile applications for more than 10 years.
Prior to joining Venuetize, Nimish was founder and CEO of eMbience, a leading provider of mobile applications and proximity marketing solutions for sports, media and entertainment companies. Prior to eMbience, Nimish founded (and later successfully sold) Calyx Software Pvt. Ltd., which provides end-to-end mobile solutions for life sciences and healthcare applications, bringing innovative solutions to emerging markets. He also founded Mast Mobile Media Pvt. Ltd (originally Mediasoft Pvt. Ltd.), which provided innovative mobile solutions in music and entertainment for operators and OEMs.
Nimish is originally from New Delhi, India and holds a bachelor's degree, Master of Science and Ph.D. in computer science from the University of Pittsburgh. He is an avid cricket player and fan, and also enjoys playing volleyball, darts, shuffleboard, table tennis and badminton. He is married and has a 15-year-old daughter named Natasha.
Nimish Shrivastava's Most Recent Content