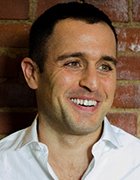 Parham Eftekhari is a recognized national security, cybersecurity, and digital transformation expert, combining 15 years of business strategy experience with a lifelong passion for leadership and community engagement. He regularly advises executives at some of the world's leading organizations, builds strategic alliances and creates thought leadership programs that simultaneously drive value for technology companies and the communities they serve.
Eftekhari is currently the founder and executive director of the Institute for Critical Infrastructure Technology (ICIT), the nation's leading cybersecurity Think Tank providing objective, non-partisan research and education to public, private and legislative stakeholders. As a nationally recognized and trusted educator, Eftekhari is responsible for managing the Institute's content strategy which consists of research publications, executive briefings and digital engagement initiatives. In this capacity, Eftekhari leads research and awareness engagements which help shape national conversations around critical infrastructure resiliency, has co-authored over a dozen publications, regularly engages with the media, and has contributed to over 100 educational briefings and events at institutions including TEDx, Congress, the World Bank, RSA, International Information System Security Certification Consortium (ISC)2 and C-SPAN.
Eftekhari is also the chair of the ICIT Fellows Program, consisting of organizations who partner with ICIT on various initiatives and ICIT Fellows, a community of global experts who regularly contribute to ICIT initiatives representing sectors including technology, government, defense industrial base, finance, healthcare, energy, and critical manufacturing.
Prior to ICIT, Eftekhari spent several years as the co-founder and executive vice president of research at a boutique firm cultivating relationships with federal government technology executives, which he maintains to this day, and as the technology practice lead at a competitive intelligence research firm. Eftekhari also founded CamPatch Webcam Covers, one of the world's first webcam cover manufacturers for webcam privacy.
Eftekhari is a recipient of the 2017 (ISC)2 Government Information Security Leadership Award - Most Valuable Industry Partner, holds a Bachelor of Business Administration from the University of Wisconsin Madison's School of Business, with a minor in French and international business after completing two years at the Ecole Superieure de Commerce de Paris (ESCP-EAP), and is fluent in French and Farsi.
Parham Eftekhari's Most Recent Content