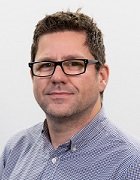 Paul has over 22 years' experience of working within IT and cyber security. He has worked in a range of technical and senior management positions and is responsible for information security across Nominet. Prior to taking up his position of CISO at Nominet, Paul was the senior director for cyber security at RELX, an FTSE 100 analytics and information company, responsible for a business unit with over $1bn turnover across EMEA & LA, US and Asia.
Previously Paul was the Chief Technology Officer at Crossword Cybersecurity plc, an intellectual property technology commercialisation company focusing exclusively on the cyber security sector. Paul was also lecturer and technical director for the cyber defence M.Sc. at the MoD Defence Academy of the United Kingdom. He has also held Senior Policy Advisory positions to the UK Department for Business, Innovation and Skills advising on the UK e-Infrastructure strategy.
His earlier career includes positions within Vodafone, Atos IT services, InnovateUK, Network Rail, and the Medical Research Council. Paul chaired the UK Governments Centre for the Protection of National Infrastructure SCADA and Control Systems Information Exchange (SCSIE), co-founded the Secure Software Development Partnership (now known as the Trustworthy Software Initiative (TSI) and is a founder member of the Institute of Informational Professionals. Paul holds an M.Sc. in Information Security from Royal Holloway, University of London and is member of the Institution of engineering and Technology (IET). He also holds a PhD in Cyber Defence and Security from Cranfield University.
Paul Lewis's Most Recent Content