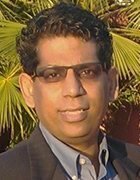 Prabal Acharyya
WW Director IoT -
OSIsoft, LLC -
As WW Director of IoT, Prabal Acharyya provides the vision that drives OSIsoft's strategic business initiatives and deep technology alignment with Microsoft and IoT Alliances. The goal of Prabal's efforts is deceptively simple -- to put the technologies and GTM strategies of these world-class companies into the hands of people at every level of the enterprise so they can make informed decisions to solve real-world problems.
Prabal is instrumental in creating joint sales and marketing campaigns, creating product alignment roadmaps, developing joint engagement strategies, and finding new and exciting ways to leverage strategic alliances to address the challenges of the shared enterprise customers.
Prabal brings over 28 years of experience to his role at OSIsoft. A former PI System customer himself, he joined OSIsoft in 1999 as a senior member of the product development team. Prior to working at OSIsoft, Prabal spent 10 years at BP, one of the world's largest energy companies, where he lead a team of system architects to define strategies for common operating systems, applications and platforms using Microsoft technologies.
Prabal has extensive experience with strategic alliance management, enterprise project leadership and global software implementation.