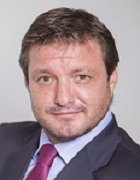 Ramsés Gallego is a past international vice-president for Isaca's board of directors and has served for three years in Isaca's CISM and CGEIT certification committees, and also in the Guidance & Practices Committee.
Gallego is also the immediate past president at the Isaca Barcelona Chapter and played an instrumental role in the planning committee for the first-ever Isaca World Congress in Washington in June 2011.
With a background education in business administration and law, Gallego has more than 20 years' experience as a security professional with deep expertise in risk management and governance.
Gallego is now strategist and evangelist in the office of the CTO at Symantec, where he defines the vision of the security discipline and evangelises on its mission and strategy.
Before this, he was at Dell Security and CA Technologies for five and eight years respectively, and was regional manager for SurfControl in Spain and Portugal, and also chief strategy officer of the security and risk management practice at Entelgy.
Gallego is a certified information security manager, certified in the governance of enterprise IT, a certified information systems security professional and a Stanford-certified project manager.
He is also an ITIL and Cobit foundations-certified professional and one of the first experts with the certificate of cloud security knowledge.
Ramsés Gallego's Most Recent Content