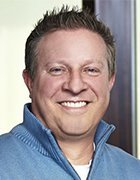 Rob Martens
Futurist and Vice President of Strategy and Partnerships, Allegion, maker of Schlage locks
Rob is the futurist and vice president of strategy and partnerships at Allegion, PLC, which makes Schlage locks, with responsibilities crossing over both the residential and commercial businesses. As technology strategist and futurist with a special focus on IoT, Rob is responsible for identifying and incorporating trends, opportunities and partnerships in the electronic product space. His career is highlighted by more than a decade at the diversified industrial company Ingersoll Rand.
Rob is a trusted expert in the internet of things/technology space and has been featured and quoted in the New York Times, FOX News, Yahoo Tech and more. He has served as an expert in several IoT panel discussions, addressing the future of IoT at the Golden Seeds Annual Summit in NYC (January 2015) and joining the IoT Global Innovation Forum in Dallas, Tex. (April 2015).
Rob was previously vice president and CIO of Carpenter Technology Corporation in Reading, Pa. Prior to that he was vice president and CIO for Ingersoll Rand Security Technologies, a $2.5B sector of Ingersoll Rand Company. Rob also served for seven years as the corporate global director of Front Office Technology and Business Intelligence, holding worldwide responsibility for Ingersoll Rand's front office technology and business intelligence strategy.
His professional background includes CPG, industrial manufacturing, distribution, financial services, consulting, education and automotive businesses.
Rob is a graduate of the University of North Carolina at Chapel Hill.
To learn more about Schlage and Rob Martens' stance on the tech landscape, please click here.
Rob Martens's Most Recent Content